"In moments of ecstasy, in moments of despair, the journal remains
an impassive, silent friend, forever ready to coach, to confront, to critique,
to console. Its potential as a tool for holistic mental health is unsurpassed."
~ Kathleen Adams, founder, Therapeutic Writing Institute
I'm just off a rockin' workshop with 11 amazing women at the Oliver Art Center in Frankfort. All I can say is that I am full and deeply satisfied. It got me thinking about why I journal and why I think you should to. But first, isn't this a lovely collection of 10 of the journals?!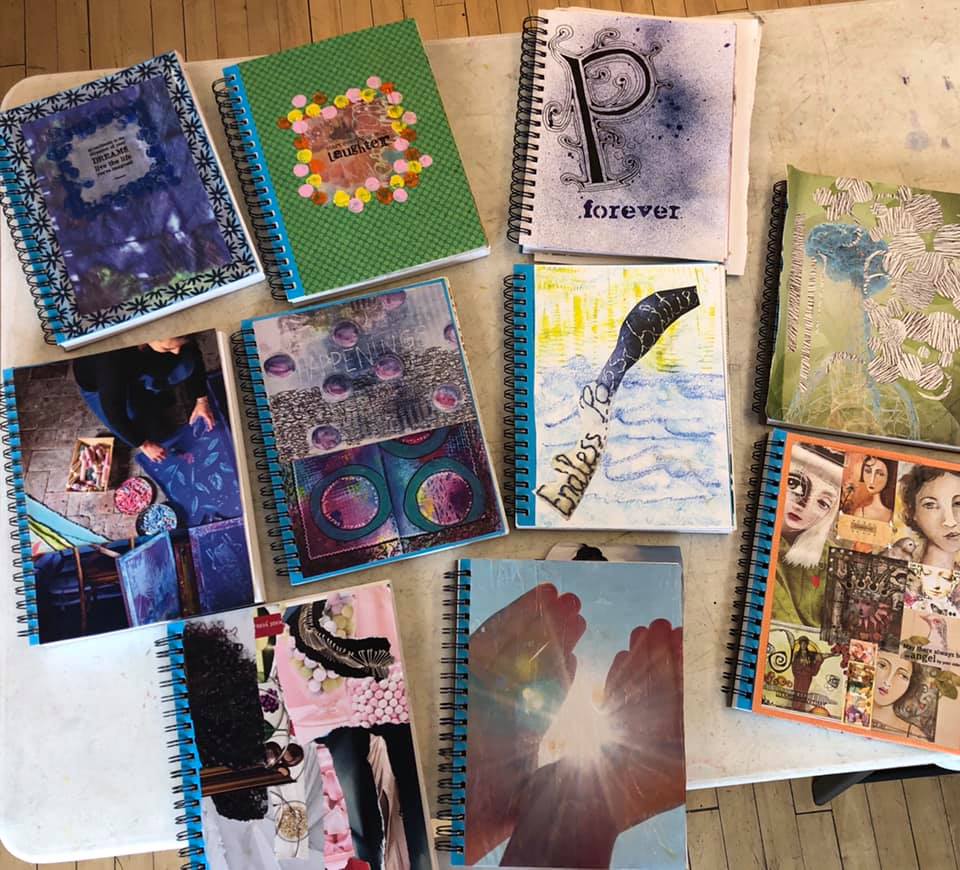 And a wonderful email to wake up to...

"I had a lot of fun today !!! I love my journal and I loved how you worked us through it. And I like how you did your own work too! You are good at what you do, and I appreciate your guidance and encouragement. I just re read what I wrote and loved some of the things I said - ideas for articles in there, 3 new scenes for my book and I can see stretches where I just plain had fun (the conversation with delight!)!!! Thank you. P.S. you have an impressive assortment of art supplies. 👏😍" ~ Kandace Chapple, editor/publisher, Grand Traverse Woman Magazine
You're getting a sense already of the power of this practice!
Journaling is my mindful, sacred practice. I dove in deep after 911 and have been learning, practicing and teaching journal techniques since then.
Whether you're a busy mom, overwhelmed entrepreneur or creative spirit searching for a way to gain clarity, release stress or get in touch with your inner wisdom, journaling is a valuable tool to help you solve problems, explore creativity, and track cycles, patterns and trends in your life.
You may have grown up writing in a diary, which chronicles your day's events. Journaling goes much deeper, helping you set intentions, get in touch with your inner thoughts, and release whatever is in your heart.
Often I hear hesitancy, fear or anxiety from students who are worried about sharing their innermost thoughts on the page. The fear of someone reading their words prevents many from picking up pen and paper. To overcome that worry, I started showing others how to add visual elements to their journal pages.
Simple mark making or adding stencils, paint and collage not only cover private thoughts; the creativity helps one process thoughts on a deeper level. I quickly discovered visual journaling to be a powerful, safe entry point for new and established journalers alike.
Because writing, drawing and collage are three different modes of expression which complement each other, visual journaling allows for a rich expression and exploration of one's inner life.
You don't need to be a writer or artist to reap the benefits, although writers tend to jump in faster with their words and artists tend to create lovely pages. Nevertheless, the outcomes are the same for all who turn to their journal for self- reflection, clarity and increased well-being.
Why It Works:
1. Research shows that creative expression helps reduce stress and improves immune function.
2. Expressing yourself on the page creates a distance between the content and you. This distance allows perspective and helps you to reflect on what is happening.
3. Writing, drawing and simple art making can bring forth information from your subconscious. That's because we process in pictures, our brains love ink, and we need to see new possibilities before we step into them.
4. Increased contact with your inner world enriches life and is self-empowering.
You may not always like what you see on your journal pages, but you will gain powerful personal insights. When you let go of perfection, you'll connect to inner guidance. Next steps become clear. Doors open.
This simple practice has been my secret for clarifying and hitting every major goal I have ever achieved. If I'm struggling, I turn to the page. When I want to acknowledge beautiful moments, I jot down gratitudes. When I want to connect with inner wisdom, I write and collage.
Keys for Journaling Success:
Keep it private. Knowing it's for your eyes only allows feelings and solutions to surface unrestricted.
Get "in the zone." Find a quiet time and interruption-free place. Close your eyes, breathe deeply, and contemplate one of these prompts:


What's going on right now?
What's my intention for today?
What is my next right action?
If I spoke my truth, I would say...
If I released my fears...
My body is teaching me...
What do I most appreciate today?

Set the timer on your cell phone for 5 minutes. When the alarm sounds, reread your journal entry and do a reflection write beginning with the sentence, "As I read this, I notice..."
Squelch your inner critic. No editing or worrying about grammar, punctuation or content. No analyzing or overthinking. Just get your thoughts from pen to paper.
Keep writing. Write whatever pops into your head. If you think you have nothing to say, write that: "I have nothing to say. Why am I doing this?" Before long you'll be back in the flow writing again.
Add marks or collage for color, perspective and dimension. With the help of visual journaling tools, you can gently but powerfully explore the various aspects of yourself, your life and your relationships with others.
Bring in the spirit of play! Using crayons or colored pencils adds a childlike playfulness that allows creativity and intuition to flow. Draw some squiggles and doodles, edge your page with washi tape, or write in a circle.Now it's your turn. Grab a sketchbook or notebook. Start with a prompt. Write whatever comes to mind, and mark up your page! If you're like me, you'll feel such joy looking at your pages... and you'll start activating your deepest desires.
Now it's your turn! Grab a sketchbook or notebook. Start with a prompt. Write whatever comes to mind, and mark up your page! If you're like me, you'll feel such joy looking at your pages... and you'll start activating your deepest desires. Let me know what unfolds.
Until then, be YOU & Create the Life You Crave!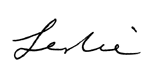 Leslie Hamp, Creative Catalyst
Forward Momentum Coaching LLC
[email protected]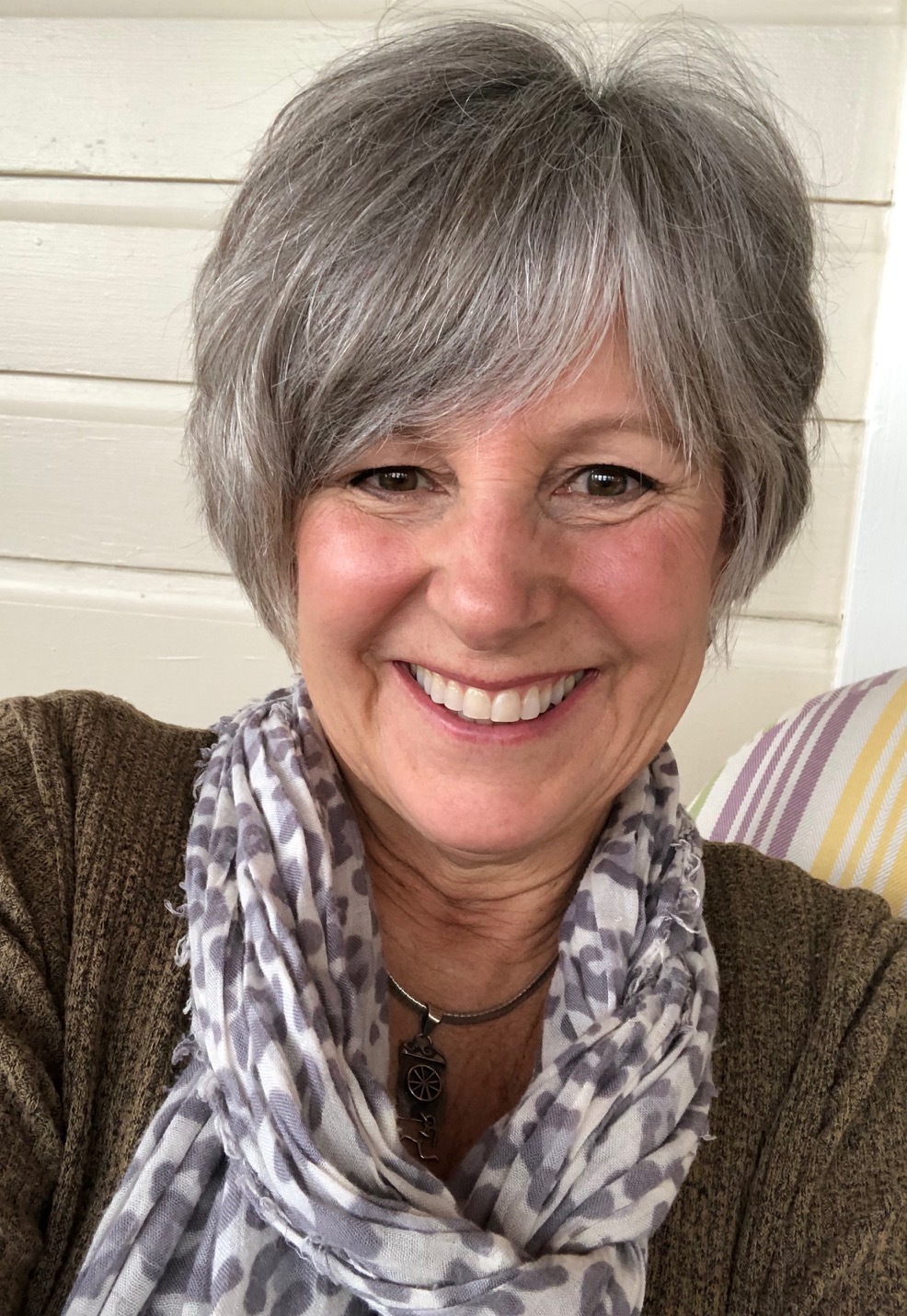 Leslie Hamp, Master Coach and Certified Journaling Instructor, leads workshops and retreats for entrepreneurs and creatives who want to gain clarity, confidence and courage to step into the new story that wants to emerge. She is author of Create the Life You Crave and its companion Beautiful Journal and contributing author of Wide Awake Every Week and Love Stories of the Bay. In her free time, she produces audio stories for Interlochen Public Radio and is devoted to yoga, Pilates, and hiking, biking and skiing with husband Jim.
If you need a champion in your corner, sign up for a course HERE, get the book HERE, join the Create the Life You Crave Nation HERE, and email me HERE.