I'm Leslie Hamp, and I work with creative souls, mostly women 50+, who want to re-imagine their work, health, relationships and life. Some want to write a book. Some want to launch a business. Others want to retire and travel the world. All want to create what matters most now. Been there, done that, and am on a mission to help others gain clarity, confidence and courage to step into the new story that wants to emerge. It's incredible to watch the spark of joy reignite as clients vision, create and discover their inner voice. I consistently hear how the focus on soulful exploration and written/visual journaling is a transformational tool. That's because we process in pictures, our brains love ink, and we need to see new possibilities before we step into them. Helping others discover their way to happiness and success is what I'm all about.
If you need a champion in your corner, sign up for a course HERE, get the book HERE and join the Create the Life You Crave Nation HERE. As my dad always said, "It's a wonderful world." I'd be honored to help you find your version.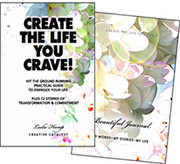 Also good to know... Leslie holds a Master of Arts in Mass Communication and is a Master Coach, Licensed Passion Project Facilitator, and Journal to the Self Instructor. She's also author of Create the Life You Crave and its companion Beautiful Journal and contributing author of Wide Awake Every Week and Love Stories of the Bay. Prior to pivoting into coaching in 2002, Leslie was a PR Whiz branding and marketing small businesses and non-profits. She is always making things (jewelry, visual journals, audio stories, her own standup paddleboard) and can't get enough hiking, biking, and traveling with husband Jim & pooch Sadie. Email her HERE.