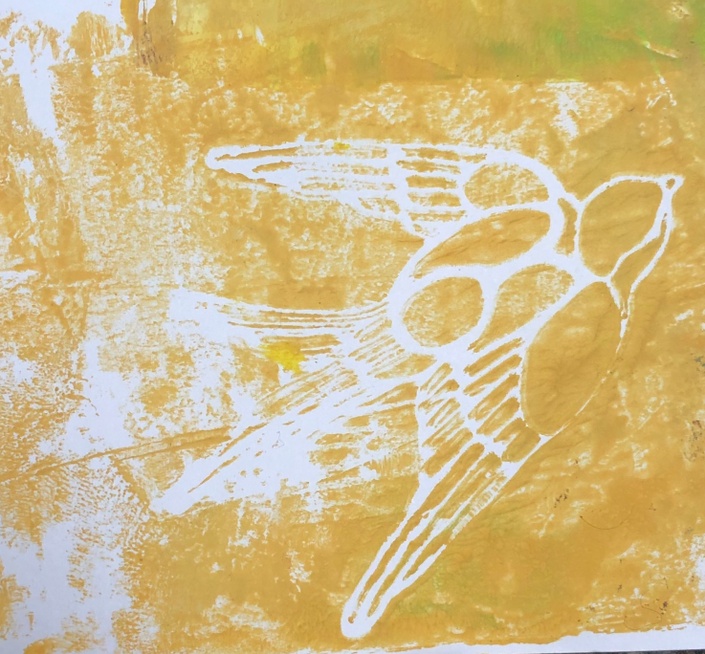 Mixed Media Journal Pages
Discover the Joy of Adding Words, Color & Collage to Your Journal Pages
Have you ever wanted to start a journal only to find the idea so overwhelming that you never got started? What goes on a page? How do you blend words and images? What tools are needed? When is a page finished? Will it be good enough?
In this workshop you'll experience a blend of journal prompts, reflective writing, and creation of journal pages overlaid with words, color and mixed media elements that playfully express YOU and all that is important to you. Adding simple art elements to your journal pages can help you access information you can't find with words alone. Combining writing with color, lines, shapes, symbols and images allows you to more directly access your subconscious and creative expression.

During our time together I will share sparks of inspiration to help you explore life, process all that's going on, and let go of stress. You will create your own beautiful journal pages full of layers, colors and powerful words. You'll work with your favorite pens, magazines, pastes, chalk, acrylics, gel pens, magic markers and anything else that catches your eye. You will cut, paste, paint, collage, write and scribble. You will trust whatever wants to make its way onto the page. And you will experience empowering insights and epiphanies along the way.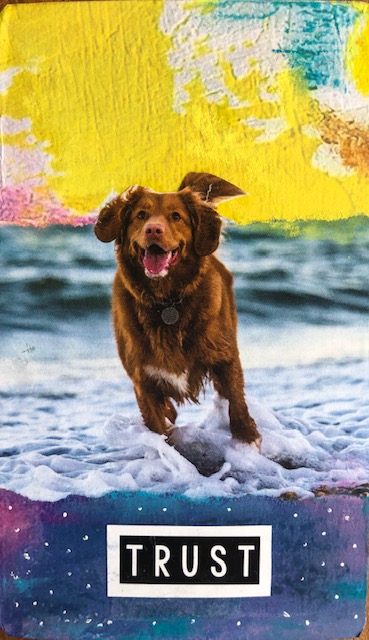 Trust where you are.
Trust the process.
Trust your decisions.
Trust your voice.
Trust your inner wisdom.
Trust when to slow down.
Trust when to be in the flow.
Trust.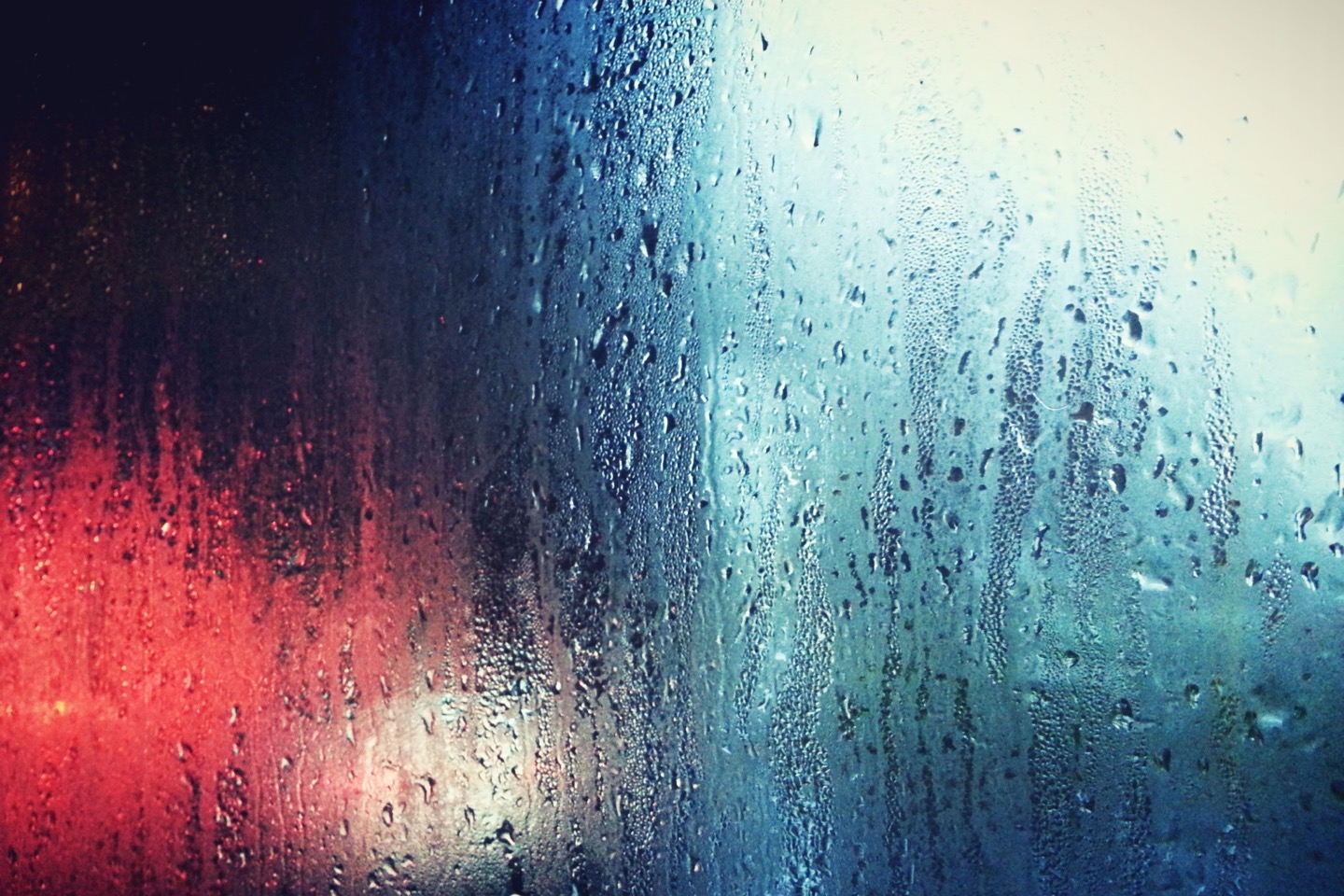 "This workshop is fun, and you learn cool techniques to get thoughts down on paper, along with creative use of different materials and techniques. Leslie is energetic, upbeat and inspiring. I'm a bit more artistic than I thought, and I really like white gel pens."
- Melissa Q, Frankfort, Michigan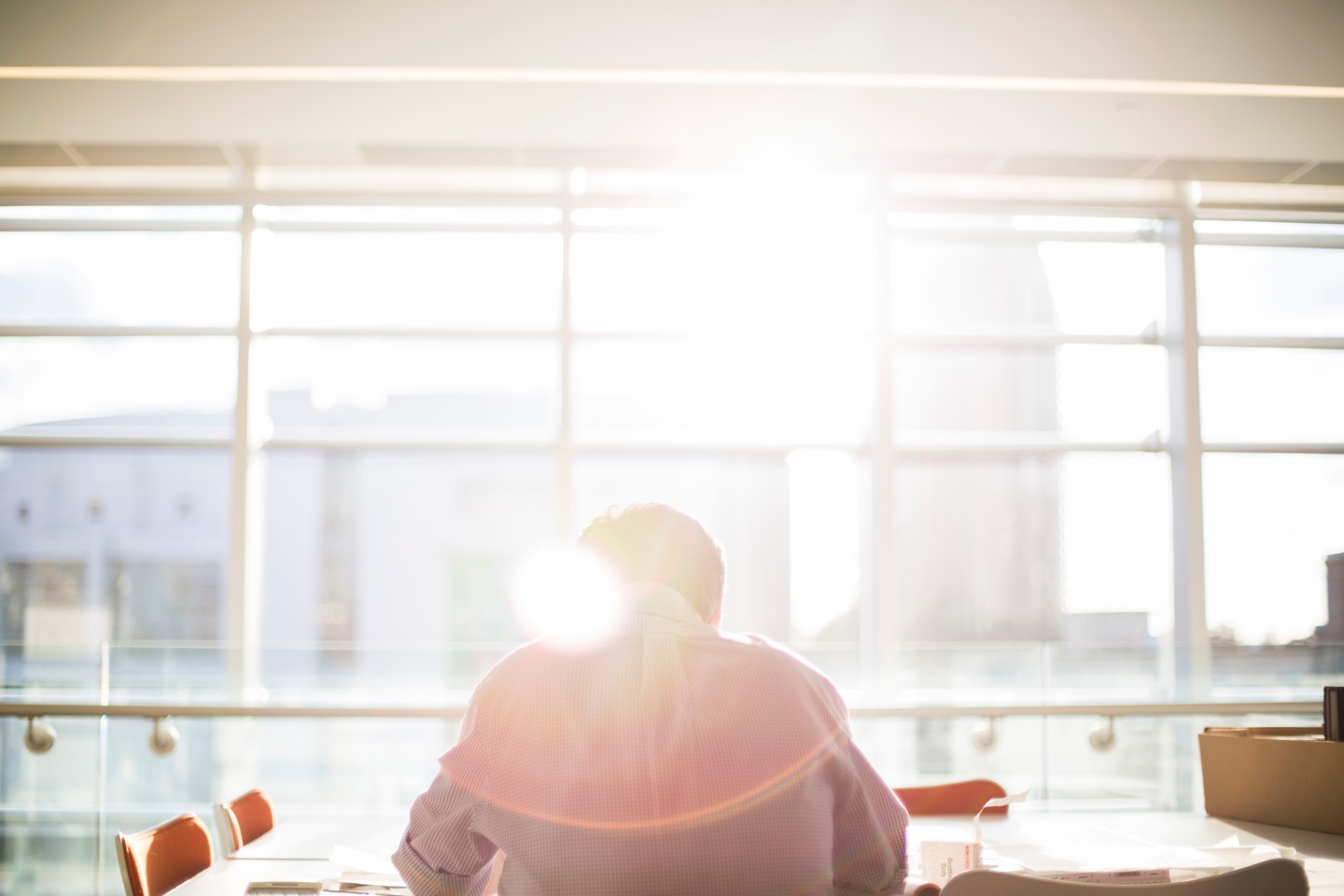 "This is a terrific workshop. I added some squibbles and color to my journal this morning and bought kid's glue last night. I've been journaling for years, but these techniques are really changing my approach."
- Chas Donald, Petoskey, Michigan
Your Supplies:
You'll purchase a mixed media journal (available HERE). Other basic supplies are often on hand including pens, scissors, magazines, colored pencils, crayons and glue. Optional supplies include gel pens, acrylic paints, stamps, stencils, chalk, spray inks and magic markers.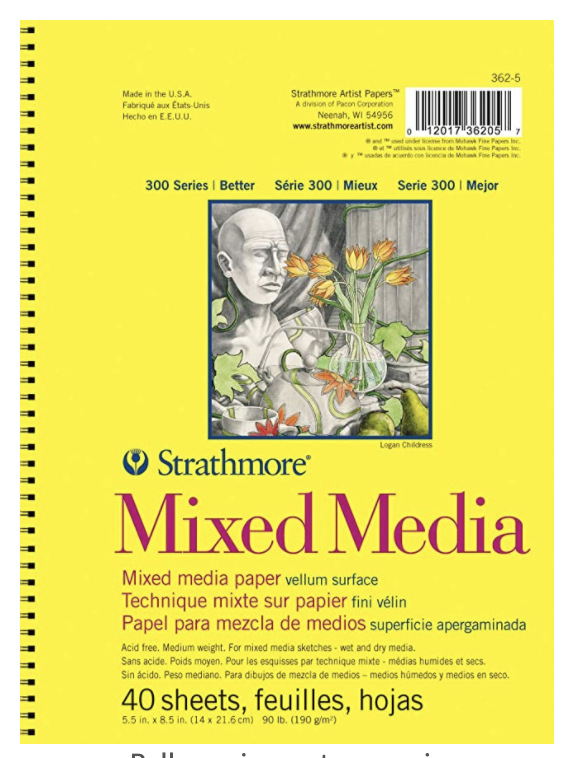 What You'll Learn:
You'll discover the power of journaling with words. (No writing experience required.)
I'll share five of my favorite journaling techniques along with structure and pacing so the blank page doesn't scare you away. In the process, you'll discover a new way to express yourself and gain powerful insights about what's working, what's not, and what's whispering for your attention — and it's ok to cover your words at the end.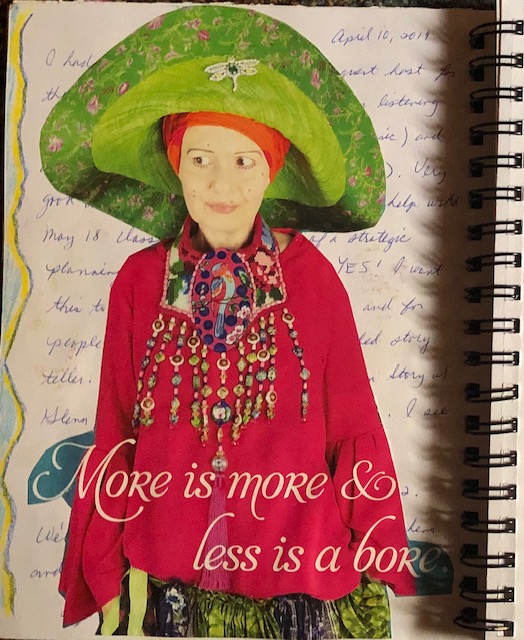 You'll discover the power of visual journaling. (No art experience required.)
Visual journaling is all about covering your pages with images, marks, stencils, stamps, photos, ephemera and much more. I'll share five of my favorite visual journaling techniques that'll inspire a new way of experimenting in your journal, trusting inner wisdom and processing life.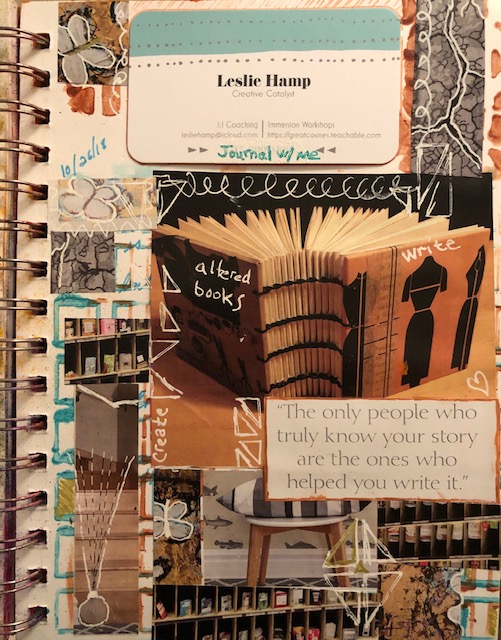 You'll discover how to create colorful, textured backgrounds.
You can add interest to your pages with texture, paint, stencils, stamps, sponges, washi tape and ephemera. You'll learn how to add reflective writing to your colorful pages — sometimes with pencils or white markers that blend the words right into the page so no one else can read them.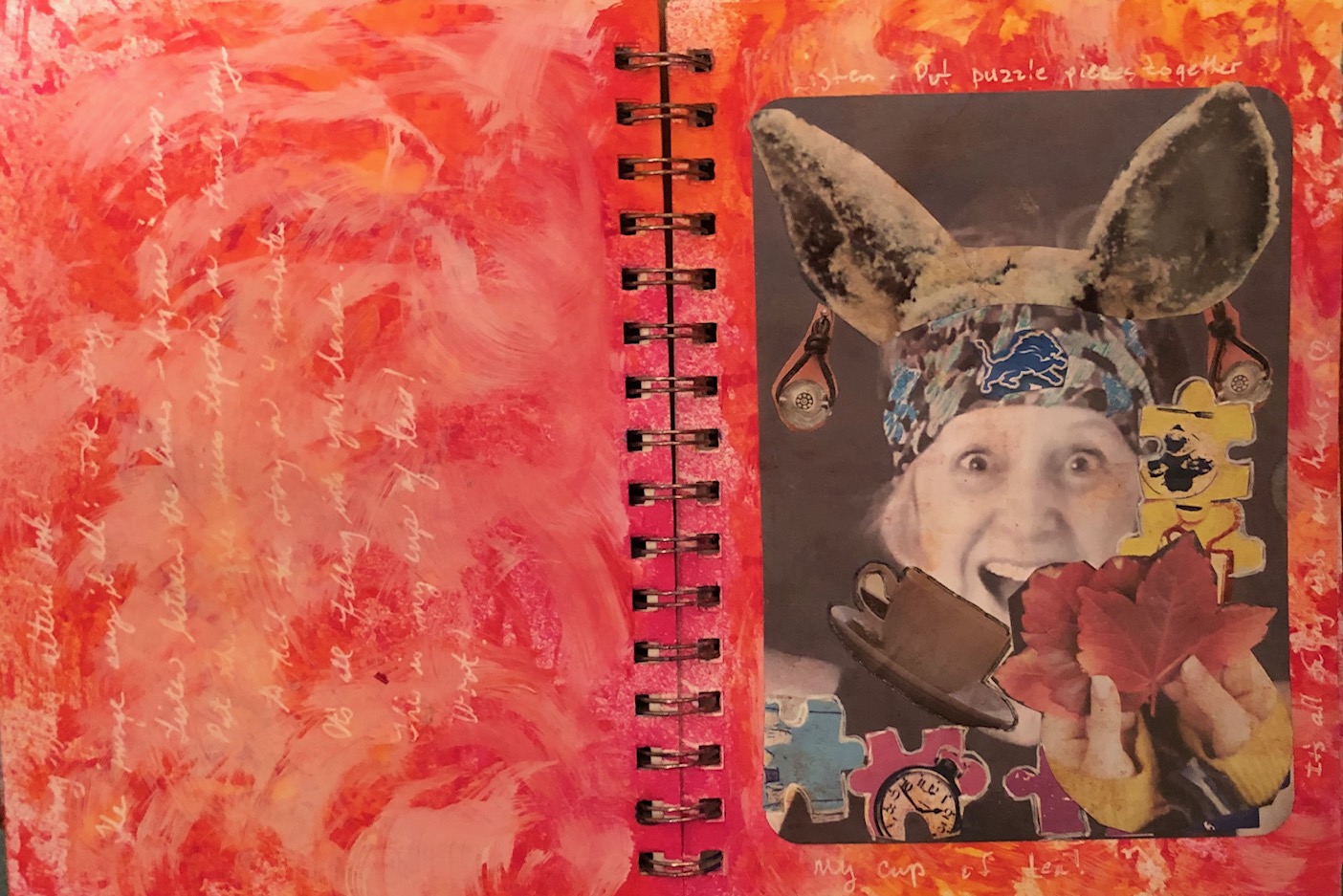 Playful creativity:

Grab a cup of coffee or tea plus your journal and mixed media supplies, and join me for an unexpected adventure. Throughout the course you'll be playing with words and images, processing emotions, relieving stress, and discovering the art of self-expression and self-care. Trust me; this is powerful and FUN... and who doesn't want that?!?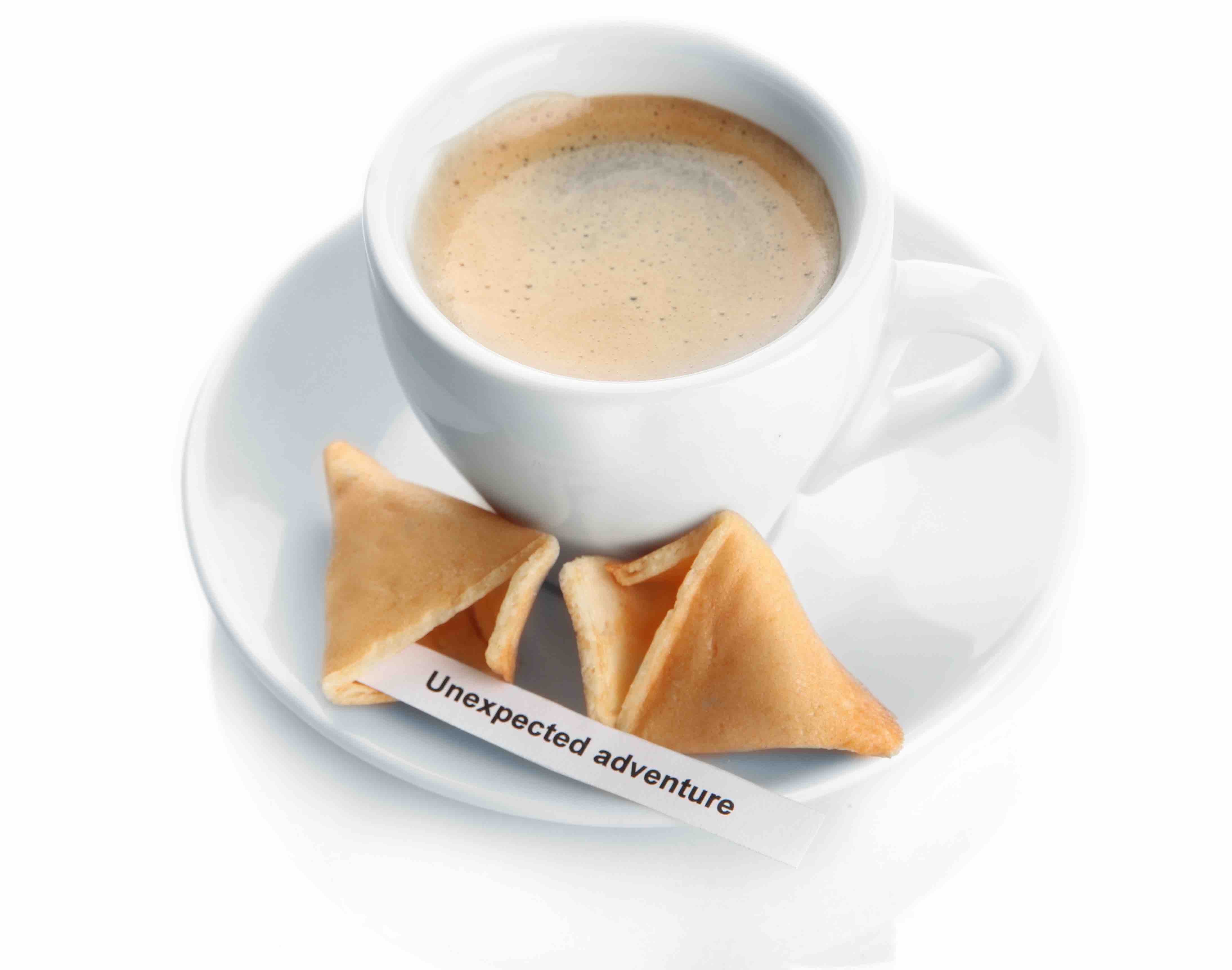 If you have any questions, please don't hesitate to email me HERE.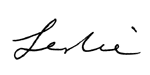 Leslie Hamp, Speaker ~ Author ~ Coach
Helping others ignite personal growth,
creative expression & resilience
[email protected]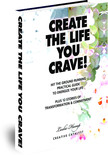 Course Curriculum
Getting Started
Available in days
days after you enroll
Sparks of Visual Journaling Inspiration
Available in days
days after you enroll
Frequently Asked Questions
When does the course start and finish?
The course starts when you enroll, and you have unlimited access to this course across any and all devices you own for one full year. Since you'll have access to the course for a full year, there is no pressure to hurry your way through the course. A bit of time between sessions will help you process your most recent journaling and visual journaling.
Who will benefit from the course?
The course is ideal for those wanting to learn new ways to explore life, process all that's going on, and let go of stress. It's also ideal for those who want to learn new journaling and visual journaling techniques.
What if I'm not a writer or artist?
No writing and art skills required! The course is great for beginners as well as seasoned journalers. I'll show you how to add words and dabble in color and collage as we move forward. It's fun!
Your Instructor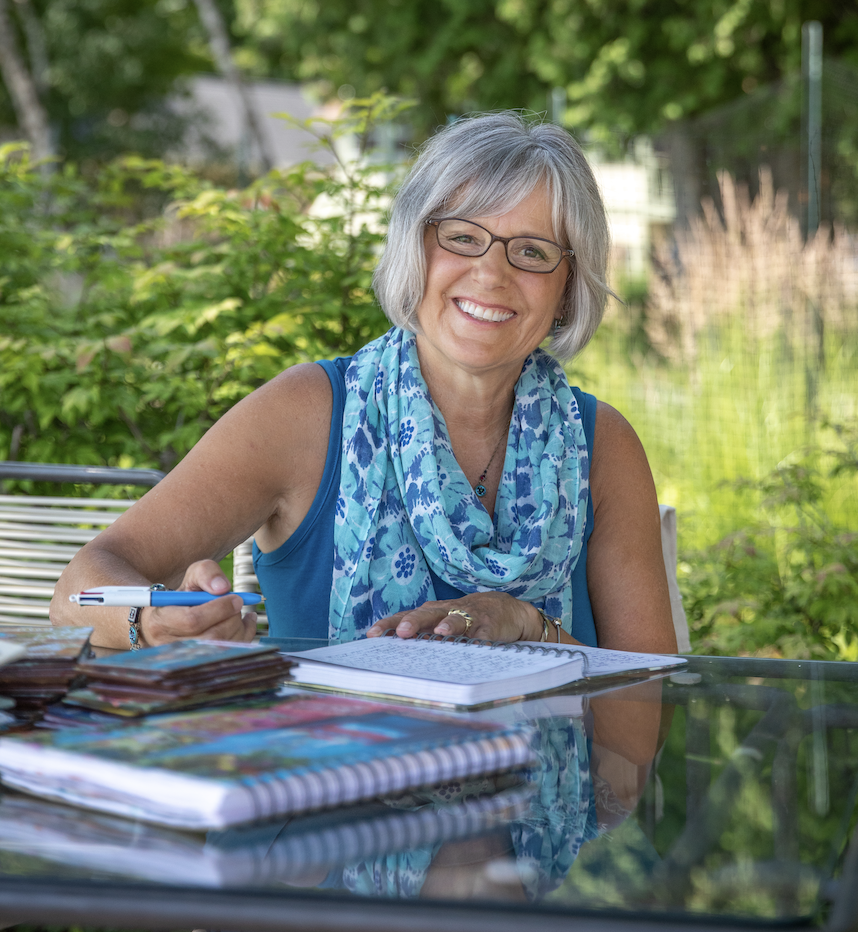 Leslie Hamp helps others harness the power of creativity for personal growth, creative expression and resilience. In her virtual, face-to-face and workplace wellness workshops, participants dive into soulful exploration through journaling, visual journaling, mind mapping and collage. Most experience aha moments and a renewed sense of purpose, creativity and joy.
Leslie holds a Master of Arts in Mass Communication and is a Master Coach, Licensed Passion Project Facilitator, Certified Journal to the Self Instructor, author of Create the Life You Crave and its companion Beautiful Journal, and producer of feature stories for Interlochen Public Radio.
If you need a champion in your corner, sign up for a course HERE, get the book and/or coaching HERE, email for a customized workshop or keynote HERE, and join the Create the Life You Crave Nation HERE. "As my dad always said, 'It's a wonderful world.' I'd be honored to help you find your juicy version," LAH.