⭐ ⭐ ⭐ ⭐ ⭐ FIVE STARS
Let me guess... you're 50+ and have done well with your career, family, friends and hobbies, BUT there is something inside tugging at you, trying to get your attention, something you can't quite put your finger on. I think I know what it is. You are ready for an encore — the SOMETHING DIFFERENT that fills you with passion and energy. But how do you "engineer" a new view of your world, using your "old" thinking patterns, as creative as they may be?

Chances are you've got the courage to look inside but need some fresh skills and a creative coach to light (and lighten) the way. That's what you'll find here. I am on a mission to help others navigate the path of change and create what matters most NOW.
In this course, What's Next: 7 Steps to Create What Matters Most NOW, I'll share inspiration, tools, and real-world experience via video, audios and playsheets that will help you take a fresh look at your world and explore what's next. Please do join me and the women and men who have stepped into their second or third act thanks to the 7 steps. Have fun with it!
oh, the possibilities...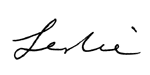 Leslie Hamp, Creative Catalyst
Forward Momentum Coaching LLC